ISO Certificate 9001:2015 certifies that the Quality Management System of Ants Ceramics Pvt Ltd has been assessed independently by Radiance Quality Certifications and found to comply with the requirements of
(Quality Management System) ISO 9001:2015  for the following scope:
MANUFACTURING & SUPPLY OF ALUMINA, QUARTZ, COMPONENTS, AGATE, ZIRCONIA, SILICA, HIGH DENSITY GRAPHITE COMPONENTS & POWDER COMPACTION DIE
To find out more about Ants Ceramics, read our about us page.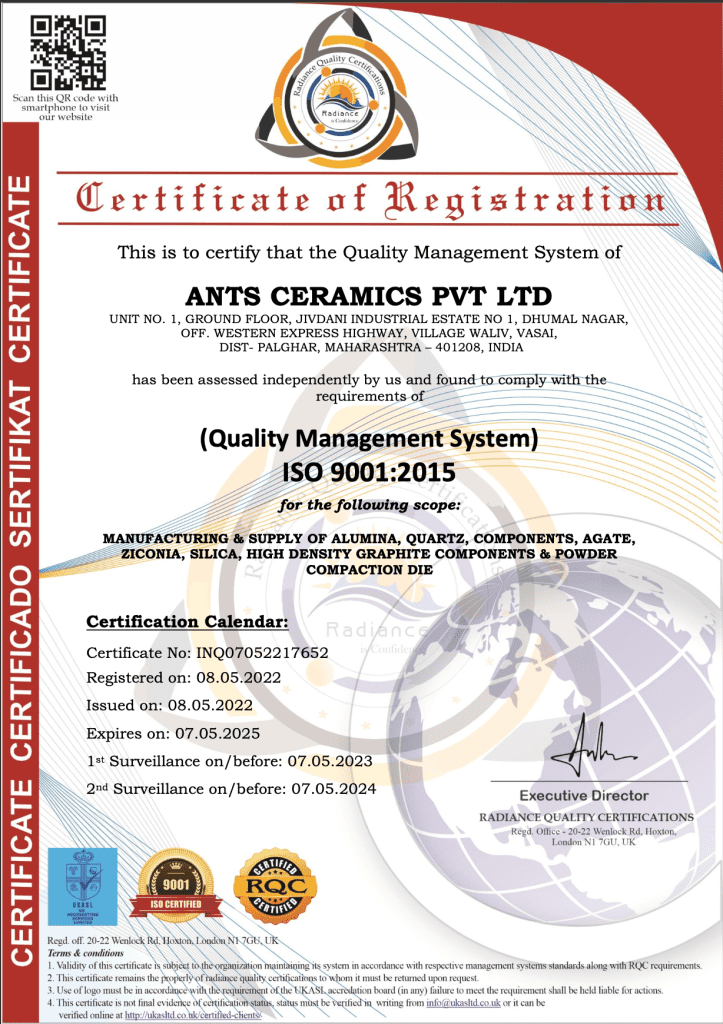 This ISO Certificate 9001:2015 was issued on 08.05.2022 and will expire on  07.05.2025 . Should verification of the validity of this certificate be required please write to info@ukasltd.co.ukor it can be verified online at https://www.ukasltd.co.uk/certified-clients/
AntsLAB® (A brand of Ants Ceramics Pvt. Ltd.) is India's first advanced materials company with its origin in academic institutions and R&D laboratories.
Ants Ceramics manufacture Oxide Ceramic components of Alumina, Fused Silica, Zirconia, Zircon and their composites by Powder Compaction, Injection Molding, Iso-static Pressing, Slip Casting and Gel Casting.
With a rich background in research and product development Ants has developed one of the world's widest and finest range of ceramic laboratory wares. The alumina labware (Crucibles, Trays, Boats etc.) developed by Ants are among the best in 99.7% alumina category and have become a global product to benchmark with.
Apart from catering to Indian demand for laboratory wares and services, Ants Ceramics is exporting its range of products to USA, Canada, Germany, Sweden, Switzerland, Finland, UK, Singapore, South Africa and Japan.
To find out more about Ants Ceramics, read our about us page.